SPRING 2019
Waxing season for 2019 has arrived and as usual it's already quite busy. Thankyou so much for your continued patronage. I am very much honoured to have so many loyal and amazing clients. I always love catching up with you and hearing your amazing stories and adventures. 
I had 2 fabulous holidays in winter, Germany 🇩🇪 and Indonesia, Bali 🇮🇩. 
I take annual leave in winter for 4 weeks when waxing season is quietest.
If you would like a Saturday waxing please book early to ensure you secure your appointment. 
I wax both men and women, with over 25 year's experience so you are always in good hands. 
Before your waxing appointment- please try to have cool skin. It's a common myth that hot, sweaty skin is easy to wax. This is completely untrue! People think the pores of the skin will be open after a hot shower or gym workout. All this does is make my job harder to remove the hair as you will be super sweaty. If your skin is sweaty the wax will not adhere to your hair, and this results in me having to go over the area multiple times to remove the hair. If your skin is relatively cool I can usually remove your hair in one go, with no need to double wax.
WINTER/SPRING 2018
Greetings everyone,
I hope you are keeping warm.
This has been quite a busy winter considering all the - 1 nights we have been having.
I've just arrived back from annual leave. I had an AMAZING time in San Francisco for a family reunion. Santiago, Chile, Ecuador and lastly the amazing Galapagos islands. The Galapagos islands were my favourite! Seeing all the endemic animals that are only found in the Galapagos islands was just a showstopper.

If you would like to see all the Galapagos Islands pictures you can find them on my Instagram feed @raquelwaxing or my Facebook Page Raquel Lynch (@raquelwaxing).
Just a reminder to book ahead once spring and summer arrives. Saturdays can be a little hectic, but I always have appointments available during the week days.
I can also open at 7am if you require an early morning waxing appointment.
Have a lovely day and see you soon.
Happy waxing, Raquel
AUTUMN 2018
Wow, summer was such a busy waxing season. It just kept going and going. Finally the cooler months have arrived and I will be on annual leave from 22nd May 2018 to 22nd June 2018.
If you would like to book your waxing appointment for after the 22nd June 2018 please contact us via the following:
1. Email me at: [email protected]
2. Send me a message via Facebook messenger: Username: Raquel Lynch
3. Or send me an SMS (0425 367 072)
Please include your name and the waxing treatment you are after.
I look forward to waxing you all after my annual leave.
Happy waxing, Raquel
Autumn 2017
I hope you have all enjoyed this extremely hot summer. It's been another bumper waxing season and it's still continuing into autumn.
I've been very blessed to have so many lovely clients. You can imagine how awesome it is to see a client which I haven't seen for such a long time return to the waxing salon!
It's quite a surprise when someone walks through the door whom I haven't waxed for many years. This summer seeing returning clients happened, again and again. Many returning clients have been working overseas or moved interstate and have now returned back to Sydney.
Over summer I went and got my motorcycle L's. I think this is my midlife crisis! I also visited Batemans Bay for 2 nights on New year.
Easter long weekend my waxing salon will be closed on
- Good Friday
- Easter Saturday
- Easter Sunday
- Easter Monday
It's wonderful to be waxing all you amazing people. Thank you for your support and I'm certain to be waxing you for many more years ahead.
Happy waxing,
Raquel
SEPTEMBER 2016
Hi everyone,
Finally spring is here and thank goodness for that. I really love being outside, warm weather and beach.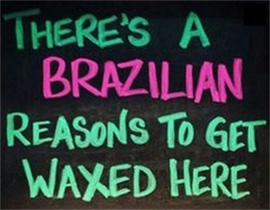 Spring is the perfect time to wax as not only will you be removing your winter fur but waxing also exfoliates all that dry winter skin. This is 2 reasons why you feel so smooth after waxing.
If you are going on vacation please ensure you have pre booked your waxing appointment.. I get many phone calls from lovely clients that are going on vacation and need a full body wax straight away. Sometimes it is just too busy and they can miss out on their desired appointment time. So please please pre-book for a full body wax as this will take approximately 1 hour and 15 minutes. Plan ahead!
Why have waxing done with me?
I have many new clients that have been to other salons and now choose to have their waxing done with myself.
I have perfected a waxing technique over the years so your waxing is done quickly and efficiently.
When a professional knows what they are doing and how to do it well bikini, brazilian or manzilian wax can be a quick, not altogether unpleasant experience. So please trust me that you will receive a great wax.
I do understand not all waxers will have the same technique but I do know from past feedback from new clients that my technique is fast, efficient and effective.
Have a great day and see you soon!
Raquel
July 2016
New Opening Times:
| | |
| --- | --- |
| Monday | 8.30am - 2.00pm |
| Tuesday | 8.30am - 2.00pm |
| Wednesday | 8.30am - 2.00pm |
| Thursday | 8.30am - 2.00pm |
| Friday | 8.30am - 2.00pm |
| Saturday | 8.30am - 2.00pm |
| Sunday | Closed |
January 2016
Happy new year everyone.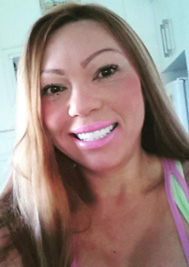 I hope you all are enjoying this lovely time of the year. I been enjoying going up to Palm Beach on my Sundays off. 
This is a fairly busy time for waxing so please book your Saturday appointments early to secure your booking.
I have a confession to make - sometimes when I'm on public transport or in a cafe I see people with loads of body hair and think to myself "Gee they really could do with a wax". Strange but true. I think the waxing must be hardwired into my brain....
Have a great day and keep smiling!
Also new Saturday times are 8.30am to 1pm.
September 2015
Waxing season for summer 2015 has begun.
I'm so glad winter is over. Does everyone else seem to hibernate in the colder months? I was very lucky indeed this winter to have two amazing overseas trips.

I had a fantastic time in England and Scotland for my annual leave. I caught up with family and friends in London and the time went way too quick!
In August I snuck off to Bali for 4 nights which was a quick but enjoyable break.

Now its time for me to roll up my sleeves and get busy waxing everyone. Summer is the high season for waxing so if you know when you would like waxing please let me know of the time and day for your waxing asap!

Saturdays can get hectic so please try to book in early.

For December bookings please know that this is the busiest month so again please call to arrange your waxing appointment asap.

If I don't answer the phone I am most likely waxing a client and will get back to you as soon I have a break in the work day. Or just leave an SMS and I can SMS you as soon as I get a chance.
Recently I have had a few new clients ask if I do any discounts. Unfortunately I don't offer any discounts as I am the cheapest Waxer in Sydney and my prices are very competitive.
Working from home in my professional home salon allows me to keep the waxing prices as low as possible. I do offer combo prices such as - Back and Manzilian for $100 instead of $110 etc.
Thankyou everyone for your funny stories and great conversation! I do like to wax in a happy and relaxed environment. I hope that when you come into my salon you feel comfortable too.

If you have a funny story or have been on an amazing holiday please tell me when I am waxing you as I love to hear of your adventures.

You can always send me a Facebook friends request so you can keep up to date with my very exciting life (LOL). FB request to raquelwaxing or Raquel Lynch.
Happy Waxing everyone,
Raquel
26 OCTOBER 2014
Hairy blokes are opting to wax their bodies as social media drives change in body image.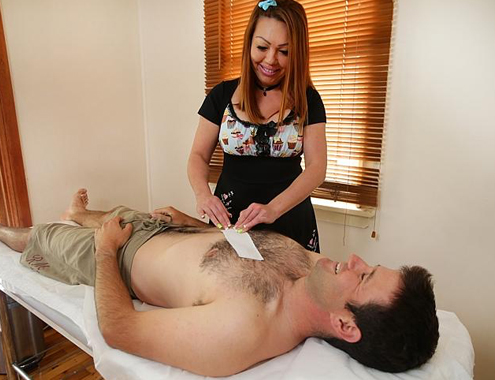 Manwax has been featured in today's Sunday Telegraph and the Daily Telegraph.
Click here to watch footage of Raquel waxing Ken's chest.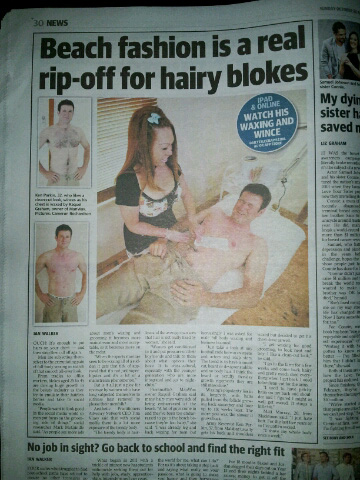 OCTOBER 2014
Hi everyone!
Its only 8 weeks until Christmas and waxing season is full steam ahead.
Everyone is getting ready for holiday season and I been asked a few holiday waxing questions which I am only too happy to answer.
Q. Can I go in the sun after waxing?
A. Not recommended for 2 days. You really need to wear a sunscreen or blockout. My suggestion is to wait a day or 2 before getting a tan. Some people can get waxed and go to the beach the same day- these clients know their skin very well and how quickly they can tan. If you are prone to burning and have a fair skin type please wait a day or 2 after the waxing to go in the sun. You don't want to get a sunburn after waxing and should try to avoid this from happening. Waxing removes the top layer of dead skin cells which can make you more sensitive to strong sunlight. After waxing you feel really smooth afterwards as this dead skin cell layer is removed.
Q. Is it ok to go swimming after waxing?
A. Now this is just my personal opinion and many Waxing Therapists will have mixed opinions on this subject.
My answer is yes, you can go swimming. Salt water is an excellent remedy for sensitive skin, psoriasis and acne. Many clients who regularly go to the beach have reported that the salt water is fantastic after waxing to calm and sooth the skin.
Chlorine - well this will also used in water (drinking water) as an antiseptic. All my clients that go swimming in pools after waxing also report no irritation afterwards and the chlorine soothes and calms the skin.
I have not heard of anyone having an irritation swimming in salt water or chlorine water after waxing.
Q. Can I have waxing done overseas in a different country?
A. Yes of course you can, but there are no guarantees on the quality of the wax or service. Here is a list below of some places myself and other clients have been to and have had waxing done and the outcomes.
Thailand- many salons in Phuket and Bangkok do both male and female waxing.
Bali - Mostly female waxing.
USA - most states have waxing for both men and women.
Singapore - there are some great unisex waxing salons in Singapore.
South America - mostly female waxing, and there are some male waxing salons.
Europe - depending which countries you go to there are many unisex waxing salons.
Middle east - yes there are waxing salons for both men and women, but you will have the same sex person for your waxing.
New Zealand - yes, many unisex waxing salons.
South Pacific - mostly female waxing salons.
Q. When can I spraytan?
A. you need to have the waxing a day or 2 before your spraytan. After you have waxing you will need to have a shower and exfoliate to make sure you have no wax left on your skin. I would recommend to exfoliate twice before your spraytan. If you still have any wax on your skin the spraytan will be streaky when it is applied, so please exfoliate and make sure all your skin is wax free.

Q. Why does your wax contain titanium dioxide? What does it do?
A- The addition of titanium dioxide produces a creamy and very gentle wax easier to spread, that reduces redness in even the most sensitive areas. Titanium dioxide creates a buffer or protection for the skin , so waxing is less sensitive. This ingredient is also used in many sunscreens for this same reason.
Q. Can I go to a music festival after waxing?
A.Yes! I'm quite certain that a loud music festival will not affect your empty hair follicles.
I look forward to seeing you all soon for your spring and summer waxing, remember to book in early for a Saturday. I do get cancellations on a Saturday as well, so please call and check if I have available appointments.
SEPTEMBER 2014
Hello Everyone!
Hope you are finally enjoying the sunshine.

Waxing season has begun and in full swing. Remember to book your appointment as soon as possible as this will be a bumper waxing season.
The earlier you book your appointment the better, especially Saturdays - they get chock a block.
If you would like waxing in December please book now so you won't be disappointed. The weeks leading up to Christmas can get hectic.

If you cannot make your waxing appointment please call or SMS asap -
I usually have a waiting list for clients wanting waxing, especially on a Saturday.
Waxing Salon is CLOSED Monday 26th October to Sunday 2nd November.
Happy waxing,
Raquel
PS. Find me on Facebook and send Friend Requests (Raquel Lynch - raquelwaxing).
Interesting Hair Growth Facts
1. Less than 4% of the world's population has natural red hair.


2. Your gender is one thing about you that cannot be revealed by your hair strand.


3. Human hair grows faster in warm weather because it stimulates hair growth.


4. Each individual hair can contain up to 14 different elements, including traces of gold.


5. On humans, hair can grow everywhere except for a few places such as on the palms of the hands, the soles of the feet and on the lips.
Why do some people get irritated after waxing?
Each hair has a sebaceous (oil) gland attached. When you wax the hair is removed from the dermal papilla, this can sometimes cause an irritation as the sebaceous gland is stimulated under skin surface. This can cause an ingrown hair or a pimple.
This occurs in less than 1% of the waxing population.
The easiest solution to prevent this is to
- Apply a rubbing alcohol (Isocol), or
- Exfoliate 2 days after waxing, or
- Apply a pimple gel (Clearasil)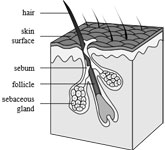 Hair Growth Facts
Your arm hair only grows 1/2 inch to an inch because body hair growth phase only lasts a few months, whereas head hair growth phase lasts a few years.   Thank god.
Humans have the thinnest body hair of all primates. Our body hair began thinning eons ago because once we stood erect on two feet only 1/3 of our bodies were exposed to the sun at a time
Everyone's hair has the same structure: cortex, cuticle and medulla.
Except fine hair or naturally blonde hair which lacks a medulla.
Trichtollimania is the impulse to pull out one`s own hair. Some people eat it. Ick.
The eyebrows function is to prevent sweat and water from running into the eyes.
FEBRUARY 2014
NOSTRIL HAIR WAXING NOW AVAILABLE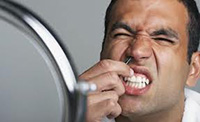 Everyone hates NOSTRIL HAIRS.
Do you hate it when you see hairs growing out the nostrils?
Wax you nostril hairs and you will able to breathe better and look well groomed.
Yes, you can have nostril waxing, its very safe and super duper quick.

Nostril Hair Waxing is only $5 and this includes both sides.
NOVEMBER 2013
RAQUEL WAXING FEATURED IN GOOD Weekend MagazinE

Great news! Raquel Waxing has been featured in Sydney Morning Heralds December issue of Good Weekend Magazine.

Click here to see the article.
Call us today on 0425 367 072 or email us if you have any questions.